Next Gen Agriculture and Conservation Professionals Mentorship Program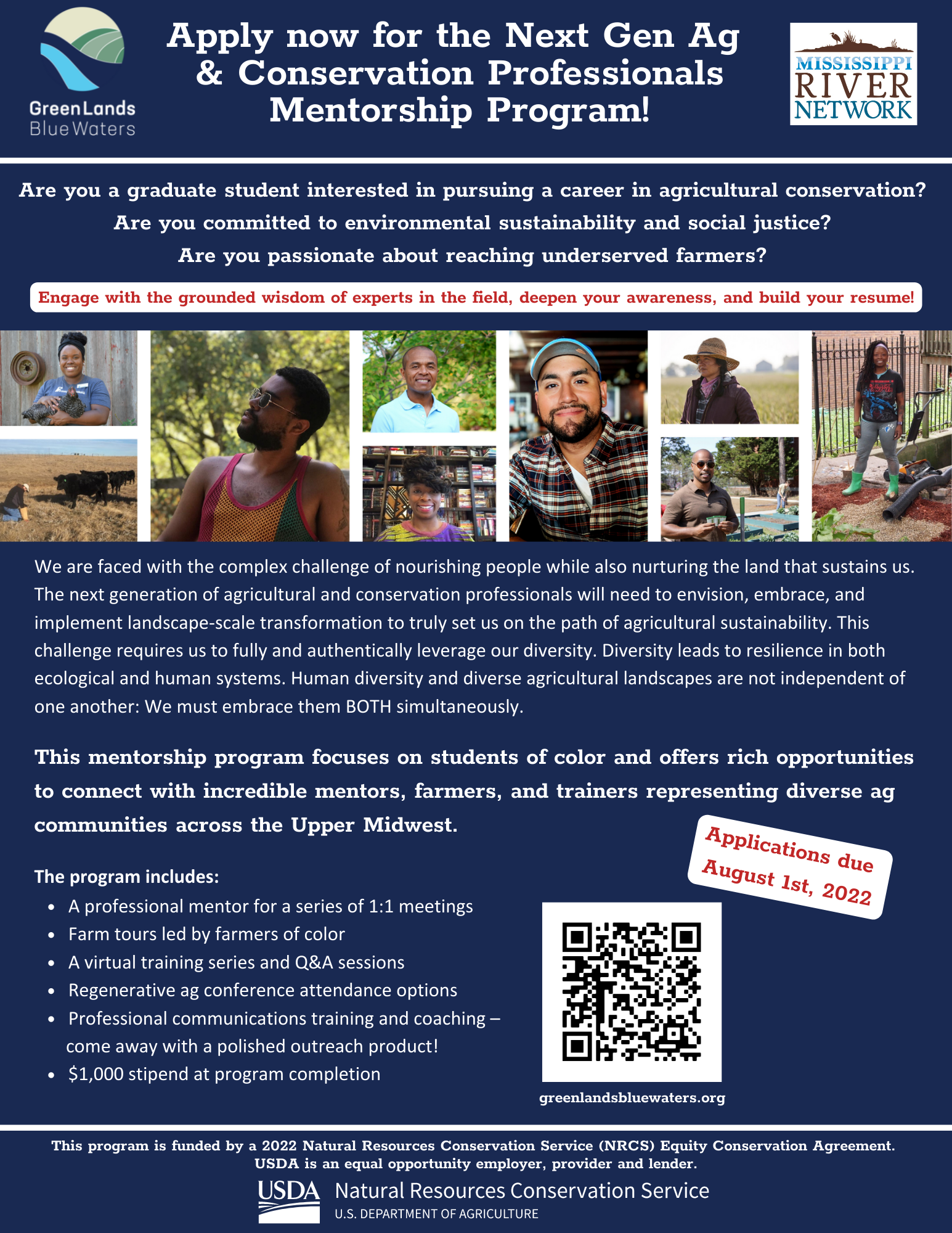 Position Title:
Next Gen Agriculture and Conservation Professionals Mentorship Program!
Position Summary:
Are you a graduate student interested in pursuing a career in agricultural conservation?
Are you committed to environmental sustainability and social justice?
Are you passionate about reaching underserved farmers?
Apply by August 1st for the program running from Fall 2022 to Summer 2023! Engage with the grounded wisdom of experts in the field, deepen your awareness, and build your resume!
More information and application materials can be found here:
We are faced with the complex challenge of nourishing people while also nurturing the land that sustains us. The next generation of agricultural and conservation professionals will need to envision, embrace, and effectuate landscape-scale transformation to truly set us on the path of agricultural sustainability. This challenge requires us to fully and authentically leverage our diversity. Diversity leads to resilience in both ecological and human systems. Human diversity and diverse agricultural landscapes are not independent of one another: We must embrace them BOTH simultaneously.
This mentorship program focuses on graduate students of color interested in careers in agricultural conservation. Some non-traditional students taking courses to prepare for a career change may also be a good fit.
The program will offer rich opportunities to connect with diverse mentors, farmers, and trainers including:
• A professional mentor for a series of 1:1 meetings
• Farm tours led by farmers of color
• A virtual training series of webinars and Q&A sessions
• Funds to attend (registration and travel) a sustainable agriculture or natural resource conservation conference
• Communications training with a professional editor and coach – come away with a polished outreach product!
• Participant stipends – $600 for a final communications product plus $400 with the completion of an end-of-program evaluation.